ABOUT RACER COFFEE COMPANY
Racer Coffee Company is a veteran-owned and operated brand that has its roots deeply embedded in the thrilling world of racing. Founded with a simple yet powerful mission to provide exceptional coffee at races across the United States, we have evolved into a burgeoning luxury brand that connects racers, race fans, athletes, and enthusiasts to the finest craft coffee experience.
Our journey began when a group of passionate racing aficionados recognized the need for high-quality coffee that could fuel the energy and excitement of racetracks nationwide. Drawing upon our love for racing and a commitment to excellence, we set out to create a coffee brand that would not only ignite the senses but also serve as a symbol of community and camaraderie.
At Racer Coffee Company, we understand that great coffee starts with exceptional beans. That's why we meticulously hand-select beans from the finest coffee-growing regions around the world. Each bean is carefully chosen for its distinctive flavors, aromas, and characteristics, ensuring a sensory journey with every sip.
But our dedication to quality doesn't stop there. We believe that the true essence of a remarkable cup of coffee lies in the precision of the roasting process. Our skilled roasters utilize their expertise to roast our beans to perfection, unlocking their full potential and delivering a rich, balanced, and flavorful experience.
To ensure that you experience the freshness and full flavor of our coffee, we ship each order directly to your preferred destination. Whether it's your home, office, race shop, or headquarters, we strive to bring the essence of the racetrack to your cup, no matter where you are.
Beyond our commitment to exceptional coffee, Racer Coffee Company is proud to support and uplift the racing community. As a veteran-owned and operated company, we understand the importance of giving back. We actively engage with various racing initiatives and charitable organizations, championing causes that empower and uplift racers, veterans, and their families.
Join us on this exciting journey as we bring together the thrill of racing with the unmatched pleasure of luxury craft coffee. Indulge in the finest hand-selected beans, roasted to precision, and experience the vibrant and robust flavors that define the spirit of Racer Coffee Company. From the racetrack to your cup, we invite you to savor the taste of victory with every sip.
Founded by a Military and Law Enforcement Veteran!
Check out our GOV-X Discounts for all LEO, Vets and First Responders. We love to support those who support us!
Our Motto "Smooth is Fast"
"Smooth is fast" is a phrase often used in sports and other competitive activities to emphasize the importance of maintaining a smooth and efficient technique.
In many sports, such as running, swimming, or cycling, athletes who are able to maintain a smooth and fluid motion are often able to perform at a higher level than those who are more tense or jerky in their movements. By minimizing unnecessary movements and focusing on efficient technique, athletes are able to conserve energy and maintain their speed over longer distances or periods of time.
The phrase "smooth is fast" can also be applied to other areas of life, such as work or personal relationships. By focusing on efficiency and minimizing unnecessary distractions or obstacles, individuals can often achieve their goals more quickly and effectively than if they were to become bogged down by unnecessary details or complications.
Overall, the phrase "smooth is fast" is a reminder to focus on maintaining a smooth and efficient approach to whatever task or goal is at hand, in order to achieve the best possible outcome.
Testimonials
I'm so grateful that my office ran out of coffee and forced me to find these guys - awesome coffee! Super nice owner and he definitely knows what he's doing - quality beans and freshly roasted just right. The 1000 Medium Roast Mexican beans make for both an outstanding espresso and French press. I can't wait to go back and try his bourbon barrel aged beans!

Mathew
One of the best coffee I've ever had in Oceanside. I only had single shot latte but it's way better Sbux :) Well, I don't think it's fair to compare legitimate coffee with Sbux but I had no closer comparison in the area. I know there are some of others coffee shop within 3 miles but within 1 mile, this is the best bet :)

Sophie
HIDDEN GEM WITH BEST BEANS IN NORTH COUNTY
Don't believe me? Go try it and discover how wrong you are.

Im a South O native and proclaim myself an authority on North County Coffee. I felt compelled to write a longer review because I stumbled on this place and I'm confident it is the BEST COFFEE IN OSIDE (and probably north County).

It is a 10/10 in terms of flavor, value, strength, and uniqueness.

Drip coffee was strong, flavorful, and perfect temp.

Nitro cold brew is very smooth and light. Not bitter at all like some chains. Perfect for a place called 'Racer' because it is absolutely loaded with caffeine.

The owner let me try the "Whiskey Throttle" Nitro Cold Brew and it is ABSOLUTELY INSANE. Taste like nitro cold brew with a shot of whiskey. It's so cool I did not feel worthy to order a full glass.

I've become a regular. Stoked to have a place like this close to home. I really hope they are able to expand to more accessible locations with additional seating. Maybe replace one of the many trash coffee shops on coast highway that I won't name.

If you have trouble finding it, go straight into the parking lot from the coal de sac and it's to the right.

Bo
The best coffee I've ever had accompanied by fantastic service and friendly conversation. I cannot recommend this place enough

James
Great place the coffee was great as i had the mocha which tasted fantastic and the roasted coffee to take home looked great. It is veteran owned and worth the adventure to get to it. I highly recommend paying a visit and supporting this shop.

Bryon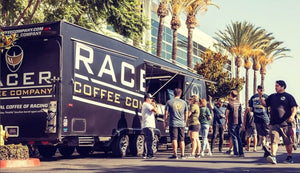 RCC SPEED CAFE'
We bridge the gap between great races and great coffee. A 32' full cafe' on wheels; the Racer speed cafe was created to bring our great coffee to you.
Here you can the see the Speed Cafe' at the 2021 King of the Hammers as the sole coffee provider for the entire lakebed!