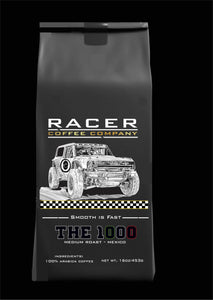 Chiapas, Mexico Coffee - The top selling coffee in the RACER inventory
Some great info while choosing which of our coffees are right for you!
Chiapas, Mexico coffee beans are known for their smooth and balanced flavor profile. Some common tasting notes that you may experience when drinking coffee made from Chiapas beans include:
Chocolate: A rich, dark chocolate flavor is often present in Chiapas coffee. This flavor can range from mild to intense, depending on the roast level and brewing method.

Nutty: You may detect a nutty flavor in Chiapas coffee, with notes of almond or hazelnut. This adds a pleasant sweetness to the coffee.

Citrus: Some Chiapas coffee beans have a subtle citrus flavor, with notes of orange or lemon. This adds a refreshing and bright element to the coffee.

Caramel: Another common tasting note in Chiapas coffee is caramel, which can add a slight sweetness and richness to the brew.
Overall, Chiapas coffee beans offer a well-balanced flavor profile that is smooth and enjoyable. The specific tasting notes you experience may vary depending on factors such as the roast level, brewing method, and individual palate.
---